The most important function of a gate is to keep intruders out of your home. But you might feel overwhelmed while selecting the right gate for your place as multiple options are available for you. Today we have come up with a sliding gate that is one of the most popular options. This short guide is created to discuss the benefits of the sliding gate. Let's start with a brief introduction to a sliding gate.
What is a sliding gate?
A sliding gate uses fixed running floor tracks installed on the ground, at the bottom of the gate. It features wheels that allow the gate to move horizontally. Since the sliding gate moves sideways or in either direction, it does not have much space to operate as the swing gate uses. For smooth operation, the sliding gate uses various hardware.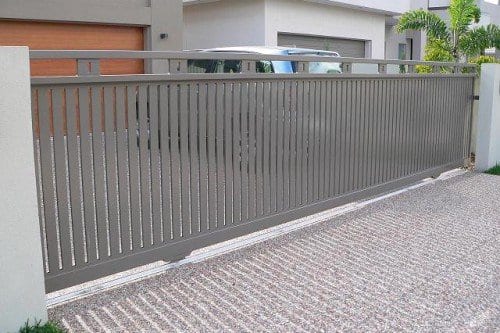 Below are the sliding gate hardware;
Chain, chain tensioner bolts
Idler assemblies
Guide rollers
Gate catchers
Mooring points
V-track, v-track stops, v-groove wheels, wheel boxes
Mounting plates
Pipe track wheels
Nylon cantilever rollers
Cantilever track
Carriage assemblies
Sliding uses less space
One of the key reasons why homeowners choose sliding gates or swing gates is space efficiency. As we discussed above as well sliding moves sideways or in either direction, sliding does not require much space while opening and closing. This ultimately gives you more space for your garden or yard. A sliding gate is considered ideal with uneven space around the gate, especially in properties located in hilly areas with steep slopes.
Sliding gate provides additional security.
You have invested your hard-earned money to build your home with advanced security features to keep your family protected. Having a sliding gate will provide an extra layer of security to your property. Because of its highly sturdy material and advanced construction design, it is not easy to break the gate for any intruder.
Ease of operation
Since the sliding gate moves sideways and does not swing inward or outward, it will not hit your car. It does not require much effort to open and close because of its smooth mechanism installed at the bottom of the gate. Just with a little push, the gate will be opened or closed easily. On top of it, when it is an automated sliding gate, you will have a remote control to open and close the gate with a single press of a button.
Ending notes
Singh Fabrications has been serving for more than 25 years, including a variety of gates, including sliding gates, and fencing, including slat fencing. When you want a sturdy and aesthetically pleasing sliding gate installed at your place, call us.