Singh Fabrications specialises in aluminium fencing in Brisbane and the surrounding suburbs. Singh Fabrications provides quality work at best prices. Get a free quote now. Call 07 3274 4866 or fill out the contact form below.
Aluminium Fencing Fashionable in Brisbane
Take a drive around the suburbs in Brisbane and it soon becomes apparent that aluminium fencing is making a huge splash in Brisbane. The most obvious use of aluminium fencing in Brisbane is on front garden fences. Aluminium fencing is popular because it is durable, strong, rust proof and low on maintenance. It is also fashionable as aluminium fencing is available in a wide range of colours and and can be powder coated to almost any colour you wish.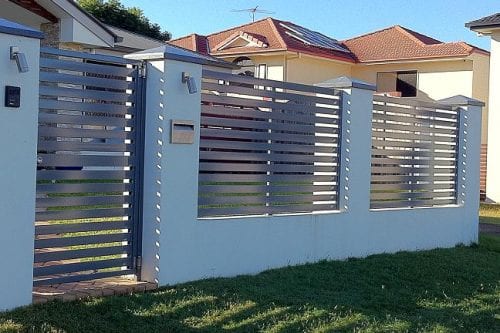 Aluminium fencing can be used as slat fencing to provide maximum privacy, allowing only a minimal amount of sight to anyone looking into a property. Once gardens are established along slat aluminium fencing, it is almost impossible to see through the fence into the property.
Aluminium fencing can also be used in a different way for pool fencing. It is available in all sorts of heights, starting at the minimum 1200 millimetres. Once again aluminium fencing is popular for pools in Brisbane because it is rust proof and resistant to the harsh Brisbane climate.
Brisbane home owners seem to be embracing aluminium fencing as a fashionable addition to their home. As aluminium fencing is available in all sorts of colours it can be installed in such a way that compliments the home. Part of the appeal is no doubt its low maintenance feature. Often giving the look of a beautiful timber slat fence, aluminium fencing has the look and appeal of natural timber at first glance, without any of the maintenance that a timber fence would require.
The look of the fence is limited only by your imagination. Installed in a horizontal fashion the fence gives a slat like appearance. Installing the aluminium fencing in a vertical position gives a balustrade appearance which is especially popular when matching the fence design to period features on older Brisbane homes. The vertical design can be matched quite well to the Queenslander style homes.
Aluminium fencing is also quite cost effective partly due to a competitive installation cost and partly due to the low maintenance aspect of aluminium fencing. There is no doubt that Brisbane Home Owners will continue to use aluminium fencing for many years to come. If you are considering erecting a new fence or replacing an old fence it is definitely worth checking out aluminium fencing providers in Brisbane to see if aluminium fencing could be the right product for your next project.
More information: Aluminium Fencing Brisbane